Pack Mfg Bale Shavers and Breakers
Pack Mfg Bale Shavers and Breakers, along with Peat Fluffers, are the ideal solution to decompressing bales and palletized peat moss. Compressed peat moss has many advantages in shipment and storage, however, when it comes to potting and growing, compressed peat moss has many disadvantages. Thawing frozen peat bales is time consuming, and compacted peat requires more water and produces heavier pots. The line of Pack Mfg Bale Shavers and Breakers eliminate these disadvantages and keep your operations running at maximum capacity. Even the most compressed peat moss bales won't stand a chance!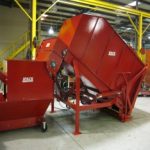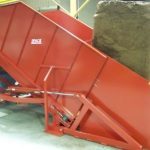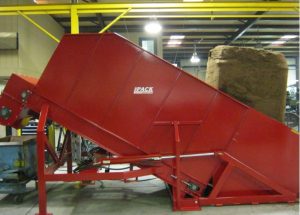 Compressed peat requires a greater volume to fill pots, creates problems with watering, is hard on root growth, and can freeze as hard as stone. Pack Mfg Bale Shavers and Breakers will turn those hard bales into soft fluffy growing media!
If you don't see what you are looking for, ask! We can do it!
If your operation uses peat moss, coir, or mixed substrate, the PM1200 Vertical Bale Shaver will produce a consistent texture and flow from every bale. Just place the palletized bale inside the machine, close the doors, and press start. The elevator feeds the bale into the horizontal scraper that takes off thin layers of the peat, coir, soil, or premix substrate. Decompressed peat moss can flow from the outlet into a hopper or conveyor line to provide a consistent textured media for mixing or potting operations. This is undoubtedly the best process for compressed bale yield with the ability to control moisture content and product integrity. Touchscreen controls and variable speeds allow this machine to be adaptable to your operation. Output speed can be slowed or increased based on your volume needs. The machine can be automated to only start once a low level of media is detected, thus refilling the hopper or potting station. The watering bar option comes standard on all Pack Mfg PM1200 series Bale Shavers. The enclosed design helps to reduce the amount of particles in the air, especially when used in combination with watering solutions.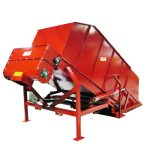 While compressed peat moss and grow media bales are great for shipping, hardened soil is bad for root growth. Whether it's peat, coir, substrate, or premix, the Pack Mfg PM1210 Horizontal Bale Shaver delivers consistent media texture and flow from the top of the bale to the bottom. The palleted peat moss bale is placed on the platform, lifted up and tilted into the steel chain flight that acts as a harrow. As the chain bring the peat into the processor, it evenly extracts the peat or premix, layer by layer. Improved processing maximizes compressed bale yield and uniform moisture content consistency. The 1210 Horizontal Bale Shaver is an improved evolution of the PM1200, capable of adapting to more processes. The horizontal design and lowered profile of the PM1210 allows it to fit into lower structures than the PM1200 model. The watering bar option comes standard on all Pack Mfg PM1200 series Bale Shavers.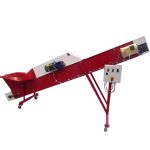 The Pack Mfg Peat Fluffer is ideal for decompressing or "fluffing" 3.8 cubic foot bales of compressed peat or premixed media. The fluffer's rotating tines uniformly break up chunks of peat as they pass from the loading area to the discharge at the top of the incline. The optional watering bar enables the desired amount of moisture to be added evenly and helps to maximize the yield of the bale. Optional adjustable caster wheels allow the Fluffer to be easily moved to service multiple filling machines or mixer lines. Consistent media, increased bale yield, mobility, and labor efficiency combine to make the Pack Mfg Bale Shaver/ Peat Fluffer a valuable tool for any grower using 3.8 cubic foot bales.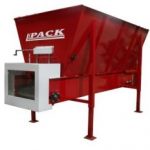 Pack Manufacturing Soil & Media Hoppers
Pack Manufacturing builds a wide range of custom hoppers for multiple applications. Pack Mfg. hoppers range in size from miniature chemical hoppers to 10+ yard colossal storage units. Pack Mfg hoppers can be accommodated to store virtually any type of material- including soil, peat moss, perlite, bark, sawdust, gravel, fertilizers, chemicals, granular materials, coal, or mixed compounds. Pack Manufacturing hoppers are used to stage materials in many horticultural processes. Hoppers can store individual components for mixer recipes, hold grow media material for transport to a conveyor or potting machine, hold material for a soil bagger, or to store "fluffed" peat moss that has been processed with a bale shaver or peat fluffer. Pack Manufacturing hoppers can can equipped to handle highly precise measurements of either weight or volume to use in automating mixing of recipes for grow media, fertilizers, or compounds (food or medical grade options available upon request).