Pack Manufacturing Potting Line Equipment
When you go with Pack Manufacturing potting line equipment, you will have to the ability to outperform any competitor. The Pack Manufacturing potting line equipment is the hallmark of our business. Our equipment can continuously deliver far greater production than the nearest competitor. The increases in speed and efficiency equate to production numbers that will far surpass older or lower quality equipment. To meet individual needs, variable speed controls allow operating speeds for any situation. Operations can be set to crawl for labor-based processes, sped up in automated conditions, or cranked up for performance with fully automated Pack Manufacturing potting line equipment.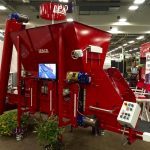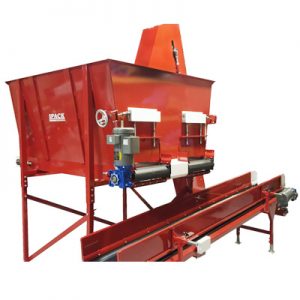 If you don't see what you are looking for, ask! We can do it!
Improved production capabilities allow for increased volume and yields while increasing quality at the same time. Custom Pack Manufacturing potting line equipment will allow you to increase production to meet a growing demand from current and new customers without losing sales to competitors. Pack Mfg has a full line of potting machines to meet any need: double potters, inline potters, or a fully automated potting production line. Call our sales team today to find out more. The best investment you can make is an investment in your business.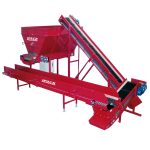 High Speed Inline Potting
The Pack Mfg. in-line potting system offers three models designed to match your container size, production needs, and budget. Regardless of which model you choose, features like self-tracking belts, sealed bearings, and direct drive power transmissions make these the most durable machines with the lowest maintenance cost in the industry. Our custom inline systems are compatible with a complete line of Pack equipment and can be customized to meet any specific needs you may have. Multiple options are available to meet your specific needs. Our inline systems allow you to automate virtually the entire potting process. The Inline Potting machine coupled with a mixer and conveyor lines can allow you to automate the entire operation.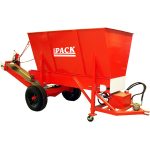 4 Yard Field Potter
Pack Manufacturing Potting Line Equipment isn't limited to assembly line-style production. We like to get out and play in the dirt too! When grow operations require mobility, we have you covered. The Pack Mfg. Field Potter series allows for a high volume of large containers to be filled on site and eliminates the need for finished product to be handled after filling or potting. Operator friendly hydraulic controls offer variable soil flow for high speed precision filling with minimum spillage. The Field Potter was designed to handle heavy nursery mixes in its 4 cubic yard drag chain hopper. The solid UHMW bed is designed to reduce wear, and a 180 degree swivel feed conveyor allows for optimum control and usability. All motors are powered from the tractor P.T.O. making this a portable, high volume filling machine. A must for all large container outdoor growers.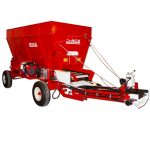 10 Yard Field Potter
The Pack Mfg 10 Yd Field Potter brings the full potential of mobility to you. Capable of delivering enough grow media to fill more than 1,000 1-gallon pots in a single load. Additional capabilities with the 10 Yd Field Potter include its 10 cubic yard drag chain hopper with solid UHMW bed to reduce wear and a 180 degree swivel feed output conveyor. All motors are powered from the tractors P.T.O. The 10 Yard Field Potter brings an extremely high amount of potential to the field. To utilize the full potential, consider adding tracking wagons and a custom conveyor system to your portfolio to quickly move potted product from the field to a grow or staging area.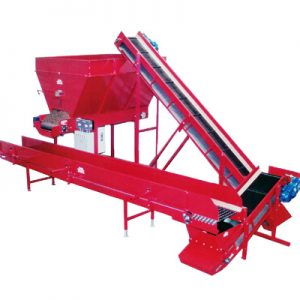 PM1000 Potter
The highly popular PM1000 is a smaller version of the High Speed Inline potting machine. With a 2 cubic yard hopper and variable speed controlled potting conveyor, the PM1000 allows for great flexibility and performance. The PM1000 is designed to fill up to 12 inch pots and hanging baskets. To fully utilize the maximum speed settings, an automated system should be considered, as no manual team could keep pace. The PM1000 has direct drive gearboxes for dependable service, with self aligning belts and sealed bearing to reduce maintenance and ensure an absolute minimum downtime and surprisingly easy service.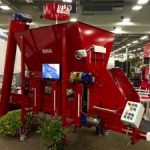 PM1100 Filler – The Pack Filler!
Although technically labeled as a flat filler, we had to include the versatile Pack Mfg PM1100 Filler here. The PM1100 is a highly customizable machine, capable of adapting to multiple roles. The PM1100 Filling System is designed to provide growers with a versatile, compact, high speed and uniform solution to filling multiple types of containers, including nursery pots, hanging baskets, plant and plug trays. This equipment includes variable speed controlled soil hopper and filling conveyor. The PM1100 also features a fully adjustable sweeper, compact roller and rotary brush. Excess soil is collected as the containers are passed across a powered transfer, and all excess is returned to the hopper via the horizontal and vertical auger system to virtually eliminate wasted grow media.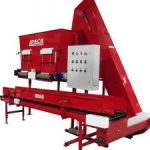 PM1002 Double Potter
The new leader of the Pack is here! We are proud to introduce the newest addition to the Pack Manufacturing potting line equipment- the PM1002 Pack Filler Double Potter. With the double potter, your empty pots are prefilled with potting media prior to inserting the plant. The pot is then filled completely once the liner or root is added. All excess soil is recycled to the hopper to eliminate waste. This potting machine not only ensures an even, uniform fill every pot, but this equipment also offers amazing production capabilities. The standard PM1002 can fill pots, trays, hanging baskets, or about any other container with ease. This machine has the capability to fill up to 850 large 15 gallon pots every hour. This one potting machine is versatile enough to fill all of your potting needs! If you need custom dimensions or to facilitate a special need, we can do it!
See our PDF for more info. Watch our Video on YouTube!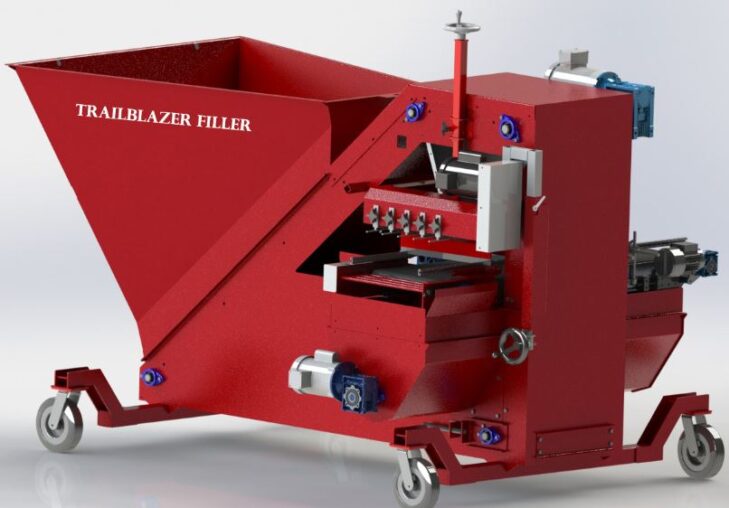 Trailblazer Filler™ Automatic Premium Pot & Tray Filler
The Pack Manufacturing Trailblazer Filler™ Automatic Premium Pot & Tray Filler is the luxury option for production container growing operations. Every aspect of the machine has been fine-tuned to cut costs and increase your production. The Pack Mfg. Trailblazer Filler™ Automatic is a compact filler with a 1 cubic yard hopper, casters, compacting vibrator, variable speed filling conveyor, variable speed heavy drag chain soil feed, and auger soil return to capture unused media. Aside from this impressive list of features, the Trailblazer Filler™ Automatic also hosts an automatic height adjusting rotary brush and automatic compacting pot sweep – all on a small mobile frame. Touchscreen controls allow for easy, intuitive operation and allows for automatic setups between different containers in LESS THAN 30 SECONDS! The Pack Manufacturing Trailblazer Filler™ Automatic comes standard with 20 different setup configurations. Each configuration will store conveyor speed, soil delivery speed, compacting sweep height, and rotary brush height. Setup configurations can be adjusted on the fly from the touchscreen controls. The Pack Manufacturing Trailblazer Filler™ Automatic is the highly efficient and cost-effective solution to container grown plant production. The PM510 allows you to pot more plants in less time with a minimum amount of labor. Also, with the Single-Button setup, laborers only require a minimum amount of training to operate the equipment. As always, Pack Manufacturing is happy to accommodate any special needs your operation has. Plenty of custom options are available to build your equipment for your business needs.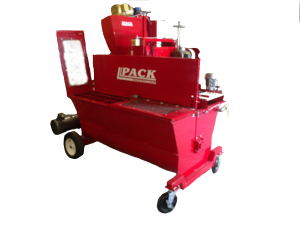 PM20 Combination Mixer and Flat Filler
Although designed more for trays and flats than as Pack Manufacturing Potting Line Equipment, this machine is a great value if your operation fills pots shorter than 12 inches tall. The Pack Manufacturing PM20 Mixer and Flat Filler is an economical solution for any grow operation. Without automated equipment, a nursery is forced to depend upon expensive labor. Deciding which equipment to purchase and which to do without is a challenge. Pack Manufacturing just made the decision a lot easier with the combination PM20 Mixer and Filling Machine. Growing media or potting soil is mixed in the integrated 1 cubic yard hopper under the safety-switch equipped, clear polycarbonate hood. The mixed media feeds directly from the hopper to the pot or tray filling line via the auger soil return system. Any excess potting media is safely recycled right back into the hopper for reuse with no waste. To ensure each container is uniformly filled, the Pack Mfg. PM20 is equipped with an adjustable rotary brush and pot sweeper, along with an extended 15-inch wide filling conveyor, roller take-offs, and variable speed controls. All this capability packed into one compact, mobile machine makes the Pack Mfg. PM20 Mixer and Flat Filler the easy investment choice for growers on a budget.
See our PDF for more info. Watch our PM20 Video on YouTube