Pack Mfg Line of Mixing Equipment
When mixed growing media is the source of cash flow for your business, trusting your mixes to just any mixing equipment is a dangerous gamble. A bad batch due to incorrect mixes or a sticking hopper or chute can lead to a batch of under-performing plants or, worse yet, loss of crops. The Pack Mfg line of mixing equipment joins precision with dependability.
Every mixer that leaves our doors is precision tested, calibrated, and engineered to last its entire life in a harsh work environment. Automated touchscreen controls and custom software options allow you to delegate the production schedule, and Pack Mfg mixers can quickly and accurately feed filling and potting lines or act as a standalone unit to create your own custom grow mixes.
The Pack Mfg Line of Mixing Equipment has something for every grower to add to their operations and capabilities.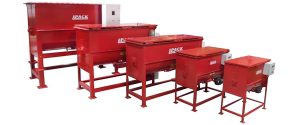 Incorporated with the Pack Manufacturing bagging system, you can add custom bagged growing media to your inventory, creating a new revenue stream from your operations. Pack custom mixing solutions offer you multiple ways to capitalize on your investment. Pack Mfg. mixing systems save you time and money. Never wait on a delivery again or spend money buying expensive bagged media. At the same time, you can reduce wasted media by creating custom batch sizes and perfecting your own recipes. Never trust your success to anything less than the best. Let us put our decades of experience to work for you!
If you don't see what you are looking for, ask! We can do it!
For extreme volume growers, ask about our Pack Mfg 6 Yard, 8 Yard, or 10 Yard Batch Mixer models!
Pack Mfg Line of Mixing Equipment
---
Inline Mixing System
The Pack Manufacturing Inline Soil Mixing System allows full control over your mixing processes. Control every factor from ingredient ratios to feed rate and volume. Your Inline Mixing System can be configured with multiple hoppers for each base bulk material and additive. A collection of recipes will allow you to mix the specific blend you desire with the push of a button. The Pack Mfg. Inline Soil Mixing System is the premiere grow media and soil mixing system, capable of meeting the most pressing production demands. Dry and wet compounds can be mixed easily, and the inline mixing system can handle troublesome materials like bark, lava rocks, sawdust, rubber, sand, perlite, peat moss, gypsum, coir, manure, guano, or any other media you need mixed. The Pack Mfg Inline Mixing System provides the user with many options that most grow operations could only dream of having. Fertilizer compounds can be mixed onsite, and either bagged for resale or storage or mixed with your grow media for a very economical boost to your potting soil. Pack Mfg Inline Mixing systems are the premiere option for mixing fertilizers, potting soil, grow media, chemicals, and any other material with superior precision and speed. Pack Manufacturing can custom build your Inline Mixing System to perfectly match your operations, and touchscreen controls offer a single-button recipe setup to change the output on demand.
Batch Mixers
The Pack Manufacturing Batch Mixer line is designed to uniformly blend a wide variety of materials, such as peat, bark, soil, sand, chemicals, and fertilizers. The ribbon blender channels material from the hopper sides through the center, resulting in a quick even blending and easy material removal through the center discharge hatch. The direct-drive power transmission is more efficient and eliminates the maintenance problems of chains and sprockets. Batch mixers have the option of an integrated incline out feed conveyor that has a direct drive gear reduced motor for feeding into a conveyor system or other production line. The incline can be folded when not in use. From beginners to veterans, the Pack Mfg Line of Mixing Equipment has something for everyone.
1/2 Yard Batch Mixer
For customized small batches, beginners, and hobbyists, nothing beats the Pack Mfg. 1/2 yard Batch Mixer.
Even at the smaller Half Yard size, the Pack Mfg Line of Mixing Equipment is built for speed, dependability, and long life. Because of our solid steel construction, enclosed gearboxes, heavy duty motors, and our focus on quality, Pack Mfg mixing equipment will always outlive the competition.
Extreme power in a compact size allows for uniform mixing in as little as 3 – 5 minutes. A perfect starter piece of equipment for growing businesses looking to increase efficiency and production. Half Yard Batch Mixer Combo available (as shown). The 1/2 Yard Batch Mixer is capable of sporting several options to provide additional benefits. Casters or a tow package can be added to provide easy mobility, and water bars to provide an ideal consistency, and potting tables, foot pedal controls, and bagging chutes can be added to provide new uses for the equipment. Pot plants directly from the Half Yard Combo Mixer with a custom potting table, or bag your potting soil for resale or storage with a bagging chute and foot pedal control.
1 Yard Batch Mixer
With the Pack Mfg 1 Yard Batch Mixer, you can easily create enough growing media for eighty (80) 3-gallon pots in just a few minutes. The powerful, maintenance free design allows you to mix a full load of custom potting soil, grow media, fertilizers, or organic mulch in less than five minutes.
The 1 Yard Batch Mixer works great with the optional feed-out conveyor to keep potting and flat tray filling lines running at a great pace. This model can be equipped with casters, foot pedal controls, water bars, potting table, a tow package for extreme mobility, an upgraded heavy duty motor package, or many other optional accessory packages for a piece of equipment custom built for your operations.
1/2 Yard to 4 Yard Batch Mixer Combo
Each of the Pack Mfg Batch Mixers (1/2 yd, 1 yd, 2 yd, 3 yd, or 4 yd)can also be converted to Batch Mixer Combos. The Pack Mfg Batch Mixer Combo has all the bells and whistles of the standard Batch Mixer with the addition of a five foot takeoff conveyor. When incorporating mixers into automated production lines, the combo features are invaluable in eliminating extra labor needs. The Combo Batch mixer can be configured to perform in a number of automated scenarios. Options such as a foot pedal for opening the discharge, mixing timers, as well as automatic chutes and bagging chutes allow these machines to be custom made for many applications. Potting tables, casters, and pneumatic tire options also add a dimension of mobility to the machines, allowing these machines to be used in multiple production lines and for multiple applications.
See our PDFs for more info. 1 Yard Mixer Combo PDF
2 Yard Batch Mixer
The Pack Mfg 2 Yd Batch Mixer follows in the footsteps of previous versions, allowing for a much greater volume to be blended in the same short time span. The Pack Manufacturing 2 Yard Batch Mixer can produce enough grow media for an impressive 160 3-gallon pots with each mix! Potting soil and grow media blends can be mixed in less than five minutes!
3 Yard Batch Mixer
For the high-volume nursery and greenhouse grower. The Pack Mfg 3 Yd Batch Mixer can deliver enough media to run many automated potting and filling tasks at moderate speeds, producing enough growing media to fill 240 3-gallon pots with every batch. With the Pack Manufacturing 3 Yard Batch Mixer, you can blend 3 cubic yards of media in just three to five minutes. Mixing for any application can be completed far faster than by hand or with inferior equipment. This is a great piece of equipment to blend media for all size containers. Options to automate the mixer are also easily available. Conveyor combos, tow packages, and heavy-duty caster options are all available.
4 Yard Batch Mixer
The Pack Mfg. 4 Yd Batch Mixer is a true behemoth. With the capability to produce enough grow media per mix to fill 320 3-gallon pots! The 4 Yd Batch Mixer can keep an automated system running at high speeds and near maximum production, limited only by keeping the mixer filled with media or soil and bottlenecks in production capabilities. The 4 yard batch mixer is powered by up to a 20 HP motor to blend even the toughest mixes! Mixers capable of handling 4+ yards of media are often used in operations that fill large container sizes on a normal basis (larger than three gallon pots). No matter what your operation needs, the Pack Mfg Line of Mixing Equipment has a solution for you! Shown with optional Feed Conveyor and Swivel Base to fill multiple lines from a single stationary mixer.
For extreme volume growers, ask about our Pack Mfg 6 Yard, 8 Yard, or 10 Yard Batch Mixer models!
ComPACK Mixer
The Pack Manufacturing ComPACK™ Mixer is the newest addition to the Pack Mfg Line of Mixing Equipment. The low-profile design allows this mixer to fit in more places and work in more operations. The entire concept has been redesigned to provide everything a large-scale growing operation could ask for in a mixer. The Pack Mfg. ComPACK™ Mixer hosts a large 4 cubic yard hopper for bulk material, a chemical hopper of your choice (either high or low volume), bulk hopper cross agitator, a high-speed, heavy duty mixing head, and touchscreen controls. Mixing recipes can be stored on the touchscreen controls for future use. Standard models come equipped with 10 different recipe settings, CNC milled water bars, and adjustable legs. The Pack Manufacturing ComPACK™ Mixer is ideal for high volume growing operations as this one machine can mix enough media to feed multiple potting or filling lines. The ComPACK™ Mixer can easily mix more than 50 cubic yards of grow media every hour! Many custom options are available to get even more out of your ComPACK™ Mixer, including additional chemical hoppers, extended conveyors, bulk hopper sideboards, extra recipe storage, custom hopper sizes, and so much more.
Pack Manufacturing Coir Batch Mixers
As more growers have adopted Coir coconut fibers due to its natural pH balance and renewable nature, traditional mixers have struggled with the heavily compacted media and fibrous structure. To accommodate these growers, the Pack Mfg Line of Mixing Equipment is offering the Pack Manufacturing Coir Batch Mixers- available in Half Cubic Yard, One Cubic Yard, and Two Cubic Yard models. The Pack Manufacturing Coir Batch Mixer uses the Batch Mixer design with a water-tight sealed output chute, clamping door, Heavy Duty motor package, and dual CNC milled water bars. Using the dual water bar attachment to flood the coir bale helps separate the fibers without damaging them and breaks down the tightly compacted coir so that it mixes the ingredients into an unparalleled blend. The Heavy Duty motor package ensures your mixture will be evenly blended even when using dry recipes. Add on a Coir Breaking Conveyor to expedite your coir mixing even more by breaking your coir down into smaller pieces before it enters the mixer.
Mushroom Bagger and Batch Mixer Combo
The Pack Manufacturing Company's Mushroom Bagger is a combination Batch Mixer with the added capability of a Media Bagger. Designed in conjunction with some of the leading mushroom cultivators in the country, this machine provides the same hard-working dependability as our custom Batch Mixers, with the added ability to quickly fill any type of container with a set volume. While designed for mushroom media and grow bags, the Mushroom Bagger is designed to delivery a set volume to a container with every press of the foot pedal control. This machine is the ideal piece of equipment for consistently filling containers of any type with a set volume of media. Pack Manufacturing custom builds each chute to work with your media and your containers. The Mushroom Bagger is a great addition to the Pack Mfg Line of Mixing Equipment for quick, ergonomic boosts to production. For heavier containers and large pots, we recommend one of our economical potting tables to help support the container and provide a platform for planting as you go.
Click here to see our PDF for more info.
Pack Manufacturing Soil & Media Hoppers
Pack Manufacturing builds a wide range of custom hoppers for multiple applications. Pack Mfg. hoppers range in size from miniature chemical hoppers to 10+ yard colossal storage units. Pack Mfg hoppers can be accommodated to store virtually any type of material- including soil, peat moss, perlite, bark, sawdust, gravel, fertilizers, chemicals, granular materials, coal, or mixed compounds. Pack Manufacturing hoppers are used to stage materials in many horticultural processes. Hoppers can store individual components for mixer recipes, hold grow media material for transport to a conveyor or potting machine, hold material for a soil bagger, or to store "fluffed" peat moss that has been processed with a bale shaver or peat fluffer. Pack Manufacturing hoppers can can equipped to handle highly precise measurements of either weight or volume to use in automating mixing of recipes for grow media, fertilizers, or compounds (food or medical grade options available upon request).