Pack Mfg Custom Equipment and Options
Aside from our hallmark machines, Pack Mfg has created a line of supporting equipment designed to boost your productivity, efficiency, and bottom line. Compliment your existing Pack Mfg line or use these items individually to meet a need within your own operations. Pack Mfg Custom Equipment compliments our core equipment lines and adds additional functionality. As always, we can fit these options onto any system you desire. Each piece of Pack Mfg custom equipment is designed to add value and increase your return on investment. Each of these machines adds directly to your ability to make money as a business You can add new products and services or increase the capabilities of your existing operations overnight.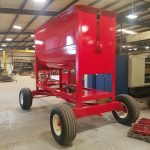 If you don't see what you are lookingfor, ask! We can do it!
Pack Manufacturing provides a full range of horticultural equipment lines for most every process. Sometimes we pop up with a new way of doing things. Sometimes this is a one-time fix, and sometimes we come up with a piece of equipment we decided to add to the Pack Mfg Custom Equipment lineup. Below are some of our custom horticulture solutions.
Whether you decide to add bagged potting soil to your product catalog with our Volumetric Bagger choices or increase your bottom line with higher production capabilities, Pack Mfg Custom Equipment has a number of solutions to boost your business.
2 Yard Volumetric Bagger
The Pack Mfg Volumetric Soil Bagger is the perfect compliment for multiple horticultural processes. Quickly and efficiently fill bags of your choice with your own growing media. The operator simply places a bag around the quick-clamp bag chute and steps on the foot pedal to open the bag and fill it with soil or other bagged media. A digital display allows for various bag sizes to be stored in memory for easy recall and versatility. Bags can be sealed with a manual wire ties or an optional automatic hot air sealer/ trimmer. For customers already using Pack Mfg Mixers, incorporating a Bagger into your operations allows you to create a new line of cash flow by selling your custom mixes by the bag. The Pack Mfg. Bagger can be customized to handle even the harshest of mixes. Speak with a Pack Manufacturing specialist today to see about setting up an automated conveyor line to stack your bagged media onto pallets or loaders.
Mushroom Bagger
The Pack Mfg Mushroom Bagger combines the capabilities of the Pack Mfg Volumetric Soil Bagger and the Pack Mfg Batch Mixer specifically for mushroom growing media. The Pack Mfg Mushroom Bagger, you can mix your media and fill bags right out of the same machine. Bags can be sealed with manual wire ties or with an optional automatic hot air sealer/ trimmer. This machine offers the ability to package grow media for easy transport and storage or to sell your own proven custom grow media recipes. Custom conveyors and bag-kickers can take the heavy lifting out of the process, moving materials between locations for reduced labor demands and eliminating bottlenecks in production.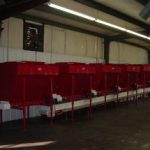 Custom Solutions
Every Pack Mfg product is engineered to maximize your productivity and profitability by increasing production and reducing time, labor, and waste. Pack Mfg custom equipment add-ons and options are not an up-sell or a gimmick, it's an investment in improving your bottom line. The money you invest in a piece of Pack Mfg custom equipment will be returned many times over. That is what Pack Manufacturing is in the business of doing- making sure our customers have the tools to get the job done right. Whether you want to add an automated line of potting machines or just need a single machine, Pack Manufacturing has the tools and ability to custom build any feature you need. Pack Mfg custom equipment is often a much more cost effective solution than modifying existing structures to accommodate other solutions.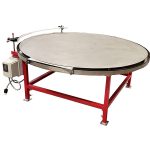 Accumulator Tables
The Pack Mfg Accumulator Tables are a perfect staging solution for reducing labor demands, especially for offloading automated production lines. The Accumulator Tables will pull completed pots toward the center, giving workers the chance to unload or stage containers without worrying about them ending up on the ground. The Accumulator Table tops are made of lightweight aluminium with a smooth finish for easy cleaning. The top is supported by a rigid solid steel frame with adjustable height. The Accumulator Tables have a variable speed control and are powered by a standard 120 volt plug. The standard table top is 4 feet in diameter, however, we can make a table any size that your operation requires.
Click here to see our PDF for more info.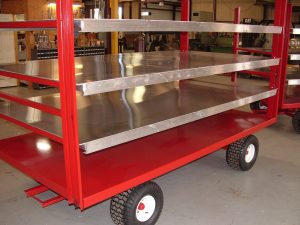 Tracking Wagons
The Pack Mfg Tracking Wagon line is a highly customizable mobility solution for transporting large quantities of products and even workers around fields, greenhouses, or any environment a truck or tractor can go. Our Tracking Wagon series varies greatly depending on need and application, but all of our wagon lines are built with a heavy duty angle iron frame and a flattened expanded metal bed. All of our wagons are built to hold up under extreme conditions. Sizes and designs will vary for purpose, such as container or liner transport, pruning, or potting. Standard Tracking Wagon sizes are 4′ x 8′ and 4′ x 10′. We also have extended standard sizes of 5′ x 10′ and 6′ x 12′. If you need a custom size, of course, we can build it. Tracking wagons may have plants trays adde
Click here to see our PDF for more info.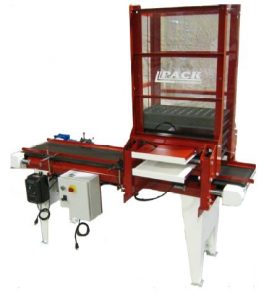 Tray Destacking System with Conveyor
The Pack Mfg Tray Destacking System with Conveyor is the missing link in many automated processes. Without the destacking solution, production lines running liners, seeds, and other small plants must manually sort, unstack, and load each liner tray prior to filling. With the Pack Mfg Tray Destacking System, this manual role is omitted from the production process. Trays are automatically unstacked, and the conveyor system rolls the tray right through the production filling process without manual assistance.
Click here to see our PDF for more info.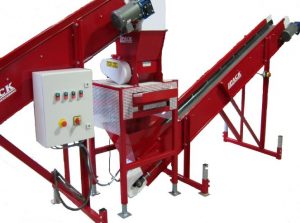 Media Recycling System
The Pack Mfg Media Recycling System is a game changing tool in terms of conservation and efficiency. The Pack Media Recycling System helps cut costs by allowing used media to be processed and reused like new media. A cleated conveyor system delivers the used media to the processor, where compacted potting soil, plant matter, and roots are broken up and separated. Usable media is delivered to the output conveyor, while scrap material is removed. Often, media is disposed of because of the labor costs associated with processing, but the Pack Mfg. Media Recycling System is an efficient and cost-effective investment to lower your expenses year after year. The media recycling system can be incorporated into almost any new or existing system.
Click here to see our PDF for more info.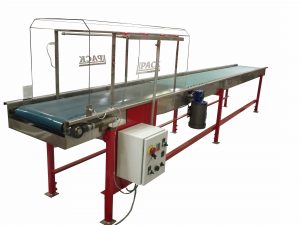 PM1090-15D Water Chamber
The Pack Mfg PM1090-15D is constructed of a stainless steel frame with a transparent poly-carbonate hood. It is designed to provide controlled watering capability for multiple watering applications, such as flats, trays, pots and baskets. It not only makes it much easier to keep the plants uniformly moistened, it also prevents wasting water while waiting for product. The Pack Mfg Watering Chamber can be wired into the production line controls, so that if production is stopped or started anywhere along the line, the watering is stopped and started simultaneously, preventing over and under watering of any product already in the watering chamber. Available in optional extra wide or tall units which will accommodate the highest and widest containers, including hanging baskets with hangers if needed.
Click here to see our PDF for more info.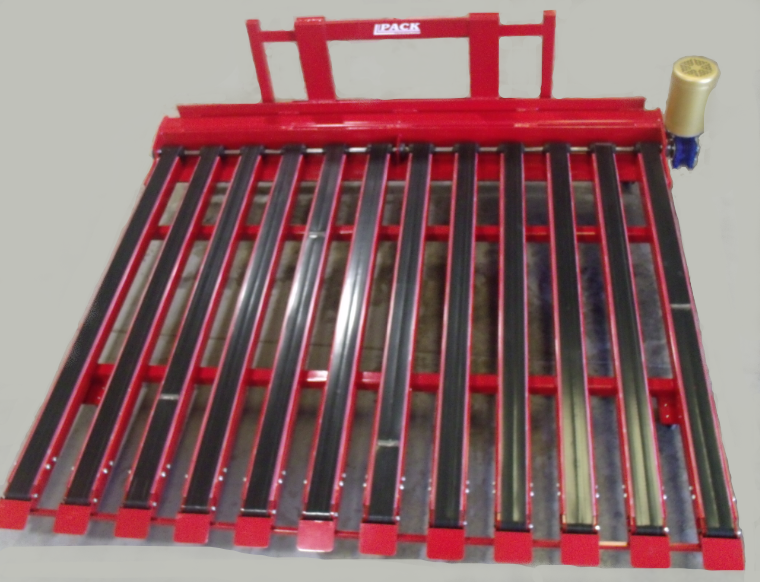 Portable Tray Spacing Forks
The Patented Pack Manufacturing Portable Tray Spacing Forks are an innovative and economical way to reduce labor costs associated with container relocation. Made specifically for transporting liner trays, these works can be accommodated to work with many container types. The Pack Spacing Forks mount onto the front forks of your forklift, allowing you to carry approximately 48 square feet of transportation space. A set of small conveyor belts run in unison to move the trays forward and backward. Even more, intuitive touchscreen controls allows you to start, stop, and set the spacing you want between rows. As you drive, the system tracks your speed and places unloads the trays with the spacing you decide. Moving containers is often a necessary but unrewarding chore, but the Pack Manufacturing Portable Tray Spacing Forks allow you to mitigate the costs associated with clearing greenhouses or fields. Options available for mounting to tractor or other light utility vehicle. Custom staging platforms available upon request.
Click here to see our PDF for more info.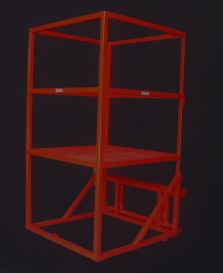 Pruning Platform
The Pack Mfg Pruning Platform is designed for bare root or ball and burlap grow operations with larger trees and plants. The Pruning Platform can be lifted with either a front end loader or forklift to safely raise the occupants to reach high locations for pruning, topping, decoration, or any other need. Standard pruning platforms come in two sizes (both sizes are 88″ tall): 36″ x 48″ and an extra large 48″ x 48″. Brackets depend upon lifting application. Customization available to fit any application.
Click here to see our PDF for more info.