Pack Manufacturing Watering Solutions
Every grower knows the importance of watering. Proper watering practices are not only essential to the life and quality of your plants but also to your bottom line. Pack Manufacturing Watering Solutions are painstakingly designed and crafted to provide the absolute best in economy, quality and dependability.
Pack Manufacturing Watering Solutions are the result of decades of experience in growing. Proper watering solutions must consider more than just volumes and frequency, but also conservation, placement, growing media, and processes to ensure maximum yields. If you don't see what you are looking for, ask! We can do it!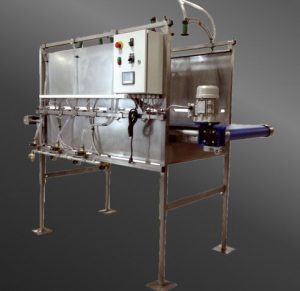 Water is one of the most basic and important considerations for any grow operation. Not only is watering essential for plant growth, but watering at the proper time during your operation can have significant benefits such as decreasing particles in the air, creating a better media blend, and watering in freshly potted plants. Speak with a Pack Mfg. rep today to help design a customized system that works for your business.
PM1090-15D Deluxe Water Tunnel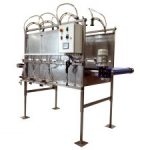 Pot Watering Chamber
Pack Mfg. Pot Watering Chambers can be custom fit into virtually any grow system. Pack Mfg Water Chambers can allow for extremely high-volume, high-speed planting lines to water and clean off freshly potted plants. The Pack Mfg Water Chamber incorporates water conservation practices by only watering when pots are present. The Water Chamber can be customized to provide large volumes of water at impressive speeds. Custom options can provide variable speed control, larger conveyor sizes, chemical additives, fertilizer hoppers, or custom dimensions. Pack Mfg Water Chambers are a great addition to almost any grow operation. Adding automated watering as the final step in any grow process helps to keep containers clean, ensure every plant is properly watered, and reduce associated labor costs.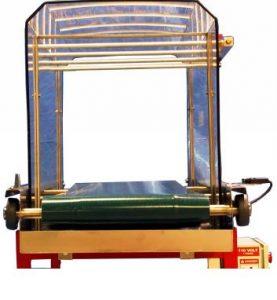 PM1090 Water Tunnel
The Pack Mfg PM1090 is constructed of a stainless steel frame with a transparent poly-carbonate hood. It is designed to provide controlled watering capability for multiple watering applications, such as flats, trays, pots and baskets. It not only makes it much easier to keep the plants uniformly moistened, it also prevents wasting water while waiting for product. The Pack Mfg Watering Chamber can be wired into the production line controls, so that if production is stopped or started anywhere along the line, the watering is stopped and started simultaneously, preventing over and under watering of any product already in the watering chamber. Available in optional extra wide or tall units which will accommodate the highest and widest containers, including hanging baskets with hangers if needed.
PM1090-15D Water Chamber
The Pack Mfg PM1090-15D is constructed of a stainless steel frame with a transparent poly-carbonate hood. The PM1090-15D is a revised take on the standard PM1090 Water Tunnel. The PM1090-15D follows water conservation practices to reduce waste and avoid overwatering plants. The Pack Mfg PM1090-15D Water Chamber comes standards with a longer conveyor and take-off rollers on the end of the watering line. Available with casters for easy mobility and optional extra wide or tall units which will accommodate the highest and widest containers, including hanging baskets with hangers if needed.
Subirrigator
The Subirrigator provides the advantages of ebb-and-flow irrigation in an in-line system setup. It is ideal for use in seeding, propagation and shipping lines, where uniform full watering is needed, and overhead watering would either be insufficient or not desirable. The final watering before shipping can be critical, and the Pack Mfg Subirrigator fully waters the roots without applying moisture (and the possibility of molding) on the upper parts of the plant during shipping. The Subirrigator comes equipped with stainless steel bed and shafts to reduce blemishing and keep your equipment looking good for years to come. The Subirrigator uses a direct drive power transmission, a variable speed drive, and can be utilized for numerous other applications. As always, Pack Mfg can customize this machine to meet any need or work in conjunction with other production equipment.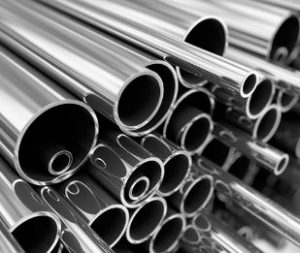 Pack Mfg. Water Bars
Pack Manufacturing can compliment almost any configuration with our custom milled water bars. Pack custom water bars are a small addition that can have an amazing impact. Whether you need plants watered at a particular phase of operations, or if you need to cut down on dust or air particles in an area of production, Pack water bars are the simple answer to your needs.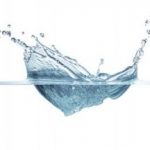 Plant Watering Solutions
Pack Manufacturing Watering Solutions can be applied to almost any process, automated system, or application. Pack Mfg can provide watering solutions and irrigation controls for greenhouses, nursery beds, or anywhere else needed. Set up your watering schedule on a timer and not have to worry with it again. Connect your watering system to your company network and view the status of your system from the comfort of anywhere other than the field. Pack Manufacturing watering solutions can be automated to water on timers, at a point in an automated process, or only water when container roots require more water (especially handy for picky plant species).